i‑effect® Suite on Premise
Our solution for automated data exchange on IBM i
With i‑effect® Suite on Premise, you centrally control all processes in the areas of EDI, EAI, and e-invoicing in one software solution. This way, you can easily connect all customers and suppliers to your IT systems and exchange business documents and other data securely and reliably with each other.
Functions
Data exchange between IT systems inside the company (EAI)
Data exchange with partners
Invoice exchange (E-Invocing)
i‑effect® Suite on Premise
Our modules
With i‑effect® you are flexible in the application due to a multitude of different function modules. Thus, you can react to new requirements of your partners and your company at any time and implement the topics promptly. Thanks to the modular structure, i‑effect® can be implemented cost-effectively even for manageable use cases and still offers the full expansion potential for future projects.
Data conversion
---
Convert data to other file formats and thus deliver your user data in the requested format. We provide the required message standards for each industry.
Receiving and sending data
---
Send and receive files to your partners or within your corporate network using the appropriate communication protocols.
Process automation
---
Configure individual processes to start their operations event- or time-controlled. When automating, you can combine all system and i‑effect® commands so you can meet any challenge.
Browser interface WebControl
---
For setting up master data, workflows, sending and receiving data, and monitoring.
Graphical EDI mapper MAPGUI
---
Independently create drag-and-drop EDI mappings for transforming data into a specific target format.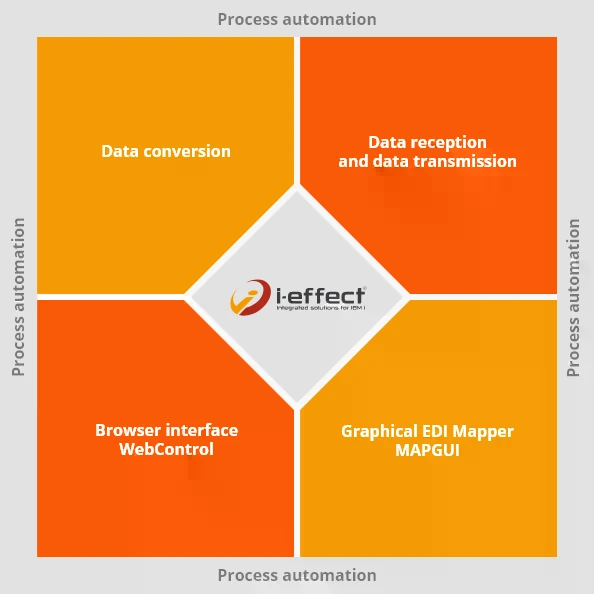 i‑effect® application areas
Electronic Data Interchange (EDI)
Application Integration (API)
Managed File Transfer (MFT)
ERP Connections (Connectors)
Application Integration (EAI)
Connection to store systems
Advantages of the i‑effect® Suite
Data sovereignty through on-premise
By installing on your own hardware, you keep the critical infrastructure and therefore the data in your company.
Own ability to act
Due to the independent operation, you remain capable of acting and are not dependent on a provider.
Field-tested
400 customers from over 15 countries are already using i‑effect® successfully. Some of them already for more than 20 years.
Industry-neutral
Our software is industry-neutral and is used in companies in a wide range of industries.
Calculable costs
As an on-premise customer, you pay a one-time license fee and annual maintenance fee and receive free updates & support in return.
Scalable
Whether 10 or 10,000 messages a day. Our software adapts to your requirements at no extra cost.
Manufacturer support
We are the manufacturer of i‑effect®. Our support staff can therefore react quickly and flexibly to your requirements. In German and English language on the phone or by mail.
Support for bottlenecks
If necessary, we support you in the implementation of new requirements, because we know that IT colleagues are often in high demand. Together we form a team.
Central integration platform
Control all integration processes with systems inside and outside your company as well as your partners on a long-lasting platform.
Proof-of-Concept with i‑effect®
Create a proof of concept with i‑effect®
We would be happy to show you what the solution with i‑effect® could look like based on a task of your choice. For this purpose, we will conduct a free proof-of-concept with you.
EDI onboarding process with i‑effect®
In our presentation, we show you how to set up an EDI workflow with i‑effect® in seven steps.
Why a data integration platform on IBM i?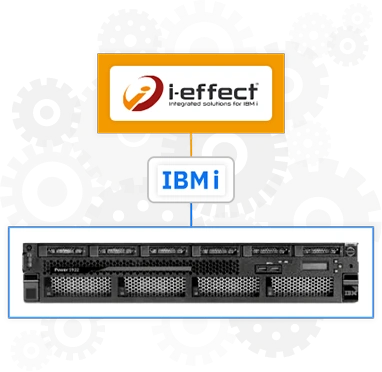 For decades, i‑effect® has been the software solution when it comes to data exchange on IBM i/AS400. With i‑effect®, you solve tasks from the mission-critical areas of EDI/EAI on one of the most robust and secure platforms on the server market. The software is a native solution for IBM I, which takes into account all advantages and also special features of the operating system and integrates perfectly into the platform. Due to the operation via the browser interface, it is not even apparent to the user that he is operating a software on the AS400.
Reasons for using a data exchange platform on IBM i/AS400:
Low total cost of ownership (TCO) & service life
You don't have your own AS400 but still want to benefit from the advantages of the platform?
Consultation
Which EDI application form is the most suitable?
You want to find out if i‑effect® on premise is the right solution for your requirements? Write to us now and we will talk together about the possible applications in your company.