If you want to hold your own as a supplier in the automotive industry, you have to meet the most stringent quality, safety and performance requirements. One key to this: EDI. Electronic data interchange ensures smooth communication and just-in-time deliveries.
The automotive industry as an EDI power user
Hardly any other industry has perfected the use of EDI as much as the automotive industry. As one of the key industries in Germany, the automotive groups and their suppliers ensured early on in the past decades that processes along the entire supply chain were fully digitized with the help of EDI. Users from the automotive environment are therefore rightly referred to as EDI power users.
Without EDI you will hardly find connections in the automotive industry
The supply chain between suppliers and original equipment manufacturers (OEMs) is characterized by increasingly similar scenarios. Demand planning and production have to be coordinated, supply chains optimized, and order picking and invoicing carried out.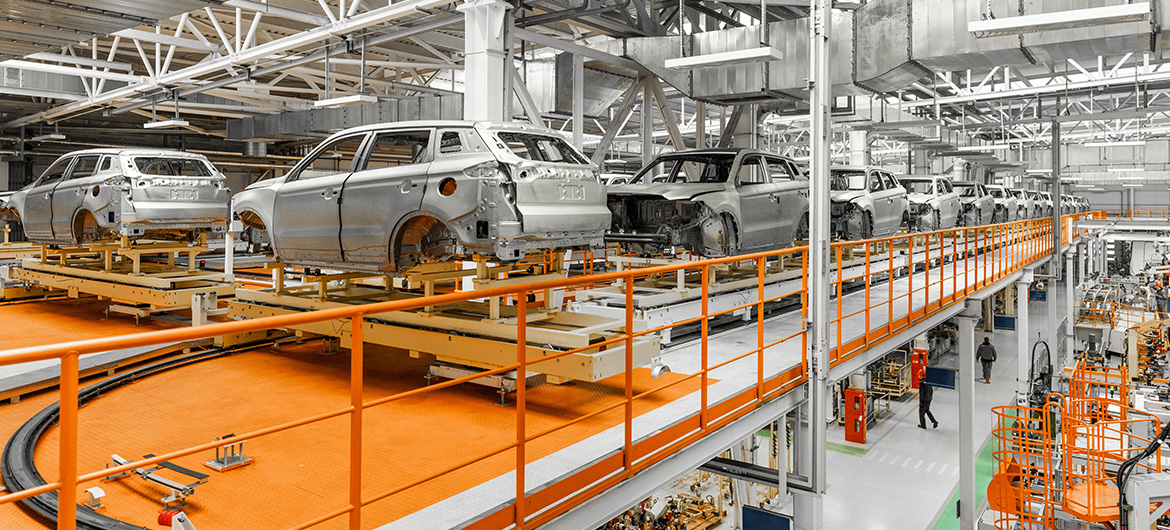 What is an OEM's demand for vehicle components in the next 52 weeks? Suppliers must align their production with the automaker's plans early on to avoid overproduction or delivery problems. However, given their many thousands of suppliers, manufacturers cannot and do not want to inform everyone manually about their requirements.
For these reasons, EDI is one of the access restrictions or criteria that a supplier in the automotive industry must fulfill. Via EDI software, manufacturers send demand figures so that suppliers can adjust their production precisely and automatically. Furthermore, EDI offers various advantages for the entire communication and delivery process.
EDI message flow in the automotive industry - example delivery bill & invoice
An example: Suppliers have to pick their goods, provide them with transport labels and ship them. When they do this, the OEM expects a timely and thus early announcement about the goods that will soon arrive, including the load carriers used and the exact sequence of the packages. Without the digital delivery notification, the goods will not be accepted or the order will only be processed for an additional fee.
This is where an automated and fully integrated EDI solution plays a major role. By using EDI software, picking can automatically trigger the creation of shipping notifications. Once the goods have arrived at the manufacturer, EDI can in turn be used to automatically create invoices and send them to the customer, minimizing the need for billing.
By using EDI, suppliers and manufacturers significantly reduce their costs. At the same time, suppliers strengthen collaboration with the use of the technology: Thanks to the digital process structures, they can rely on the contractual compliance of their partners at all times.
Our EDI software
i‑effect® supports all common EDI standards
For smooth collaboration in the automotive industry, electronic data interchange can be realized via various technologies. No single standard for EDI has become established in the industry. Instead, various standards are used in parallel. Therefore, it is all the more important for EDI users to be able to respond to all these requirements. With i‑effect®® you can be sure that you can.
i‑effect® offers you these possibilities
Communication protocols
AS2

OFTP2

OFTP

SFTP

FTPS

FTP

X.400
Data formats
EDIFACT

FLATFILE

SAP IDOC

X.12

Global VDA

Flatfile VDA

ODETTE

GALIA
Messages types
Call-off

(DELFOR, DELINS, VDA 4905, VDA 4984, ANSI 830)

Invoice

(INVOIC, VDA 4906, VDA 4938, ASNI 810)

Delivery bill

(DESADV, AVIEXP, VDA 4913, VDA 4938, ANSI 856)

Daily call-off

(DELJIT, DELINS, VDA 4915, VDA 4985, ANSI 862)

Shipping order

(IFTMIN, TRINAD, VDA 4920, ANSI 858)

And more...
Control your EDI business in the automotive sector with our EDI software i‑effect®
OFTP2 solution certified by Odette
Support of all important industry standards, e.g. VDA
Conversion options for all relevant message formats
Central monitoring of the EDI platform via the WebControl browser interface
High performance and fast process speed to ensure JIT/JIS
EDI in the cloud as a managed service or in-house on premise
High availability for 24/7 application operation
Easy connection of own suppliers due to wide range of functions for conversion and communication
Field-tested at suppliers of Volkswagen, Daimler, Porsche, Continental and many more
Contact
We will be happy to advise you personally and compile
an individual concept with you. Request now without obligation.