i‑effect® system requirements
In order to use i‑effect® effectively and to its full extent on your system, certain requirements must be met. Please note the necessary requirements for the use of i‑effect®. If you have any questions regarding the system requirements, please contact our support.
The table below shows the lifecycle of the different i‑effect® versions. We recommend that you always use the latest i‑effect® version. If this is not possible, please make sure that you do not use a version that has already been discontinued.
i‑effect® Version
IBM i Version
Status
From
To
Minimum
Maximum
3.0.7
3.0.x
7.3
7.5
released
3.0.0
3.0.6
7.3
7.4
released
2.9.0
2.9.x
7.2
7.4
released
2.8.0
2.8.x
7.2 ¹
7.4
released
2.7.64
2.7.x
7.1
7.4
released
2.7.0
2.7.63
7.1
7.3
released
2.6.0
2.6.x
6.1
7.3
discontinued
i‑effect® Life Cycle
¹ A direct installation into the IASP is not supported in this release.
Tool for automatic checking of system requirements
Download and run the i‑effect® System Check to determine if your system meets all necessary system requirements. The i‑effect® System Check examines the operating system, installed single PTFs, group PTFs and other components for known compatibility problems.
Download System Check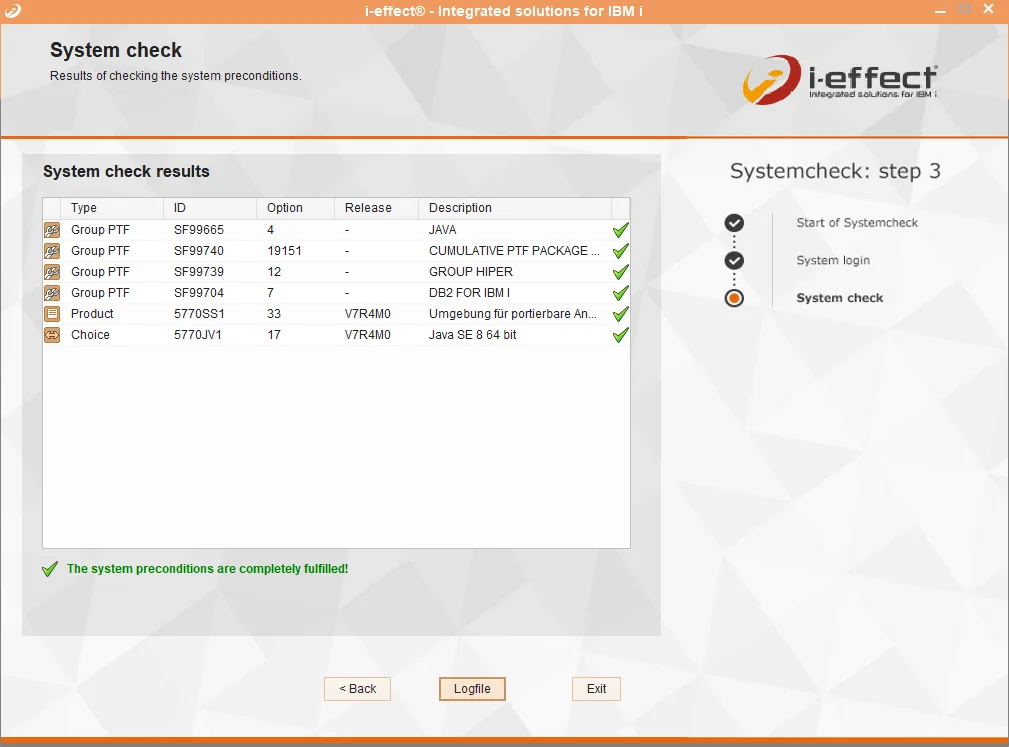 System Check
Required group and single PTFs (version-dependent):
1. choose your i‑effect® version:
Contact
We will be happy to advise you personally and compile
an individual concept with you. Request now without obligation.