*SERVER - Workflow Automation
Not only products, but also processes must be updated constantly. With the module, i-effect *SERVER, you can automate your entire i-effect – functions or selected working processes – according to a selected schedule or after selected IBM Power Systems (System i, iSeries, AS/400) events.
---
Output queues can be monitored and spooled files can be converted or sent via email when new print versions arrive. Automation helps processing workflow in compliance with regulations (i.e. digitally signed invoices), the service level of business processes is kept up even in case of personell shortage and the workflow efficiency will stay the same or will increase in consideration of decreasing budgets.
Central workflow control for all business processes - not only for i-effect&reg, but also for IBM i and Power Systems processes.
Process Control for Legal Regulations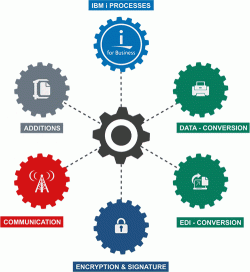 Optimal automation of processes not only reduces costs, but also increases efficiency. Monotonous and reoccurring tasks are executed flawlessly. Automated IT systems work around the clock and increase profitability. i-effect&reg *SERVER, which encompasses hundreds of elements, manages and organizes your processes perfectly. Long waiting periods and piled up tasks are things of the past. i-effect&reg *SERVER works through the most complex processes quickly and efficiently. Open up free space for your IT employees, maximize process security. And reduce the margin of error. Legal regulations are easily integrated into the workflow (e.g. mass signature for invoices), the service level of business processes is maintained even with personnel shortages, higher yields despite unchanging or even shrinking budgets.
Reduced Costs, Improved Quality through Automation
Digitalized workflow reduces the running time of business processes
Quick treatment and set-up of new processes
Maximizes process security
Reduces the total number of processing steps
Reduces the margin of error
Reliable with complex workflows
Transactions costs within a processing step are reduced
Switching from manual to digital process increases quality, because manual data entry is error prone
Automation increases the flexibility of operating departments to change processes
Digital processes can be managed by a monitor, which provides information that can be used to optimize processes even more. The number of unsuccessful processes is reduced