EDI projects require a wide variety of specialized knowledge. In our glossary, we provide answers to most of the terms you may encounter in your EDI project.
XML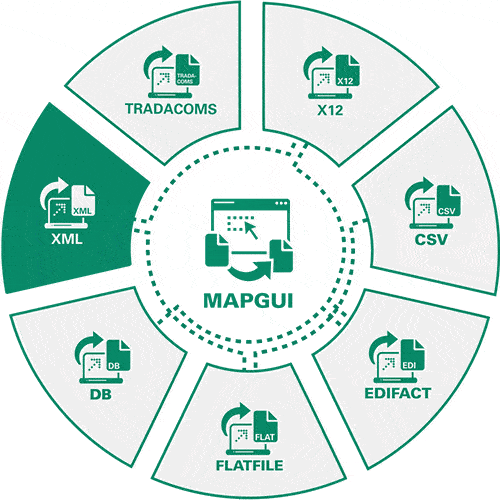 Any2Any - With i‑effect® *XML it is possible to map, convert and integrate data to and from XML format. Map data in any imaginable combination between EDIFACT (with all Subsets), XML, FlatFile (SAP iDoc), CSV, ANSI X.12, TRADACOMS or databases (DB2, MySQL, MSSQL, Oracle) without limits and in an automated enviroment. This maximizes productivity and provides faster and more effective processing.
The Drop&Drag mapping simplifies the training of new employees, because programming skills are no longer necessary, which reduces IT costs and makes you more competitive. XML not only can transport data for automatic processing but also be used by interactive applications like WebEDI.
i‑effect® *XML supports the following standards:
BMEcat 1.2 & 2005
W3C XML Schema 1.0
CEFACT 2009
EAN UCC 1.3.1
EDIFICE 2004-1, 2004-2, 2005-1,2005-2, 2006-1, 2008-1
FIXML 4.4, 5.0, 5.0 SP2
GS1 XML 2.0, 2.0.1, 2.0.2, 2.1, 2.1.1, 2.2, 2.3, 2.4, 2.5, 2.6, 2.7
OAGi-BPI-Plattform
OAGIS 8.0, 9.0, 9.1, 9.2
openTrans 1.0, 2.0, 2.1
RosettaNet
UBL 1.0, 2.0, 2.0
Errata 01
xCBL 3.0, 3.5, 4.5
u.v.m.
Functionalities:
XML-Mapping based on XML-Scheme
support for linked XSD´s
XML-Scheme-validation
XML-Instance-validation (syntax and semantic)
simple add of XML Schemes
Multiple target files (separation of the data and user-defined naming)
support for the W3C-XML-Scheme 1.0 Standard
Please note:
Standard UN-EDIFACT format descriptions are included in the i‑effect
®
software maintenance service; any others can be obtained by the customer for an extra charge according to menten's range of services. An existing customer XSD can be used for i‑effect
®
*XML. For further information please contact our
sales team
.