EDI projects require a wide variety of specialized knowledge. In our glossary, we provide answers to most of the terms you may encounter in your EDI project.
Peppol
What is Peppol? E-Invoicing in europe
Peppol (Pan-European Public Procurement OnLine) is an international project that was launched in 2008. Peppol is dedicated to the task of developing and advancing open standards for public eProcurement (public tendering and procurement procedures), taking into account national solutions and IT infrastructures. Currently, eleven participating countries are involved in Peppol: DK, DE, FI, FR, GR, GB, IT, NO, AT, PT, SE.
The Peppol standards were successfully implemented across Europe in August 2012. From 01.09.2012 the group OpenPeppol (public and private Peppol stakeholders) as a non-profit society started the work for further expansion and implementation of Peppol in Europe. Peppol is thus also a network for the transmission of electronic documents between public bodies and suppliers. Within the network, procurement processes can be mapped completely electronically, starting with the publication of an invitation to tender to the awarding of a contract and finally to invoicing. Due to the standardized processes and formats, even SMEs can participate in public tender processes across borders without having to have international branches.
Peppol thus offers an infrastructure within the EU with standardized processes and formats, whereby existing national solutions and EDI networks are not displaced or replaced, but rather integrated and incorporated via a Peppol interface. This electronic message/document exchange includes business documents such as catalogs, supplier documentation, purchase orders and invoices.
Why do you need Peppol?
In Germany, sending and receiving invoices in the XRechnung format has been mandatory in the B2G environment since 27.11.2020 at the latest. This legal requirement can be mapped via Peppol. There are alternatives for sending XRechnung such as web upload, e-mail or DE-Mail. However, none of the latter offers an electronic confirmation of receipt of a sent XRechnung, which can also be visualized in the ERP system of the invoice sender. Peppol also enables correct delivery to the invoice recipient and timely processing of the invoice, which is hardly a given when sending invoices via e-mail.
Further advantages for a connection to the Peppol network:
In addition to standardized e-invoicing, the entire procurement process can be mapped electronically
simplified work processes and cost reduction
secure, standardized message exchange
all members of the Peppol network can interact with each other
How do I connect to the Peppol network?
The connection to the Peppol network is possible via a certified Peppol partner, the so-called Peppol Access Point. There are currently over 200 Peppol access points. Once you have connected to one of these access points, you are assigned a Peppol ID, which consists of your own chamber of commerce number, VAT number and VAT ID number. The Peppol ID is used for authentication and identification of the members/users and thus enables a secure message exchange with all Peppol network members.
Peppol 4-Corner-Modell
The Peppol communication model controls the electronic data transmission of two Peppol Access Points (AP). The communication is based on a profiling of the AS4 protocol. For a secure and standardized message exchange, two instances are connected between the sender AP (Corner 2) and the receiver AP (Corner 3): The Peppol SMP (Service Metadata Publisher) and the Peppol SML (Service Metadata Locator).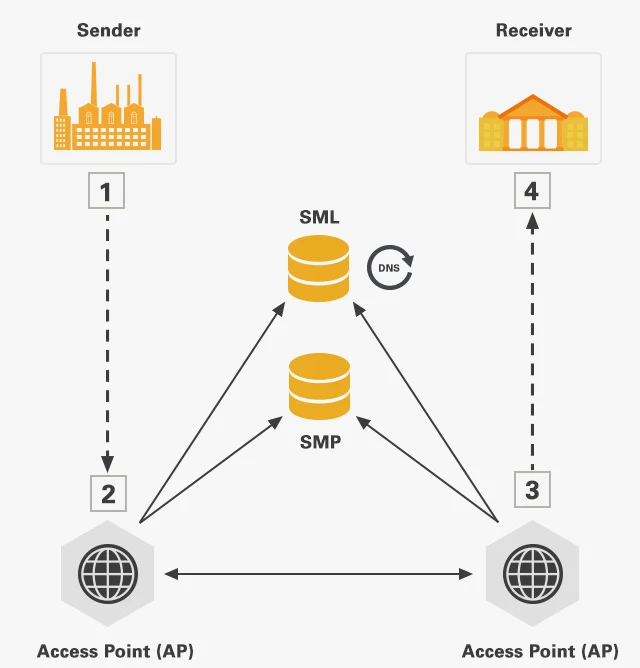 The Peppol SMP is comparable to a technical directory that contains metadata (such as Peppol ID, delivery address, supported business processes and document types) of several Peppol members. There are many SMP servers in Europe where all recipient APs are registered. The Service Metadata Locator (SML), on the other hand, exists only once in the entire Peppol network. It serves as an interface between the SMPs and the DNS (Domain Name System) and ensures that a sender AP reaches the correct recipient AP.
The sender (Corner 1) sends an XRechnung to the sender AP (Corner 2) with which it is registered and communicates the Peppol ID of the recipient. Access Point 2 uses the recipient ID to create the correct DNS name of the invoice recipient (Corner 4) and thus reaches the associated SMP server. Here it is checked which recipient AP (Corner 3) is to be reached and whether the transmitted XRechnung meets its requirements. After this check, Access Point 3 forwards the XRechnung to the recipient (Corner 4).