EDI projects require a wide variety of specialized knowledge. In our glossary, we provide answers to most of the terms you may encounter in your EDI project.
TRADACOMS
EDI Mapping Module TRADACOMS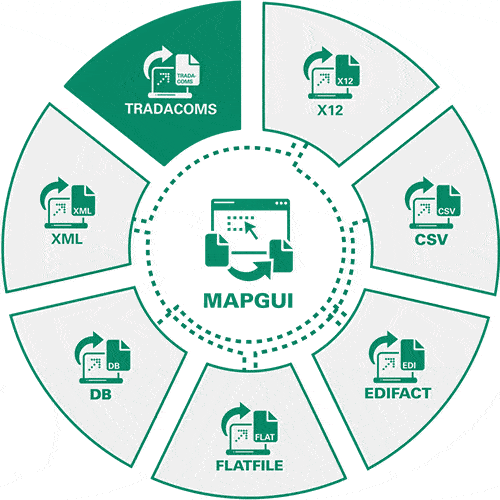 Any2Any - With i‑effect® *CSV it is possible to map, convert and integrate data to and from CSV format. Map data in any imaginable combination between EDIFACT (with all Subsets), XML, FlatFile (SAP iDoc), CSV, ANSI X.12, TRADACOMS or databases (DB2, MySQL, MSSQL, Oracle) without limits and in an automated enviroment. This maximizes productivity and provides faster and more effective processing.
Functions
Multiple messages per interchange
Automatic syntax check
Code list check
Automatic message recognition
i‑effect® *TRADACOMS supports the following standards:
ACKMNT Version 4
AVLDET Version 4
CORDER Version 4
CORDER Version 6
CRAINF Version 3
CREDIT Version 9
CUSINF Version 8
DELIVR Version 9
DLCDET Version 5
DRAINF Version 3
EXCINF Version 3
GENRAL Version 3
INVOIC Version 8
INVOIC Version 9
LPRDET Version 2
ORDERS Version 6
ORDERS Version 8
ORDERS Version 9
PAYINF Version 9
PICKER Version 4
PPRDET Version 2
PRIINF Version 8
PROINF Version 8
RSGRSG Version 2
SADDET Version 3
SNPSTS Version 3
SRMINF Version 6
SRMINF Version 9
UCNDET Version 3
UPLIFT Version 4
UTLBIL Version 2
UTLBIL Version 3
Please note:
Standard UN-EDIFACT format descriptions are included in the i‑effect
®
software maintenance service; any others can be obtained by the customer for an extra charge according to menten's range of services. An existing customer XSD can be used for i‑effect
®
*XML. For further information please contact our
sales team
.