EDI projects require a wide variety of specialized knowledge. In our glossary, we provide answers to most of the terms you may encounter in your EDI project.
REPORT
*REPORT - Modern data layout tailored to your corporate design
The layout of texts, images and graphics can be done with just a few mouse clicks. The database of your IBM i (System i) provides the necessary data. You link and position these data on the designed form.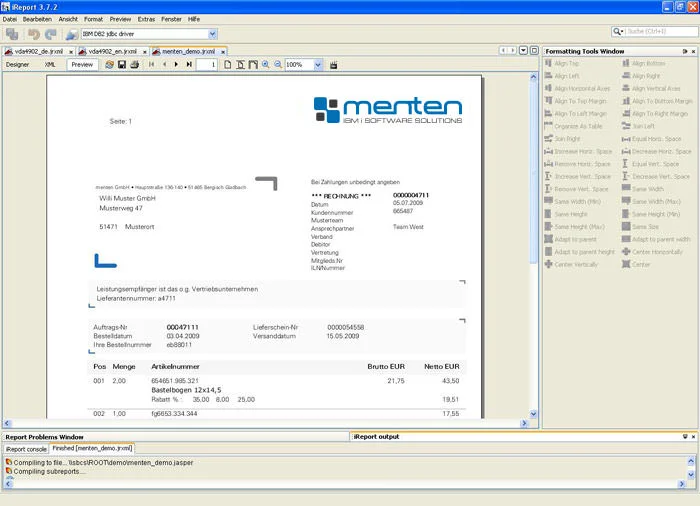 Some reports need to be worked up more thoroughly, visually appealing and ready for print. You can use the graphical report designer's extensive possibilities to create barcodes, graphics, charts, and interlaced lists.
JasperSoft-Studio meets even the most demanding reporting requirements, such as the creation of print-ready versions with pixel-perfect positioning of all report elements, as well as the preparation of complex reports with several components and multiple data sources. This does not mean that JasperSoft-Studio needs additional server resources or any special IT programs. JasperSoft-Studio is a 100% Java client application, flexible enough to fit seamlessly into any software environment.
Reports brought into shape with *REPORT
Modern data layout tailored to your corporate design with the opensource Client JASPER-Soft-Studio. JasperSoft-Studio is a free open-source Java-based report generator (GUI)
Output
PDF, HTML, XML, (XHTML, XLS, RTF, DOCX, Text, CSV, OpenOffice, PNG from Version 2.2)
Parameters passed by commands
JasperReports Server
IBM i specific implementation of JasperReports
Native command interface RUNREPORT
Full integration with i‑effect®
SQL database connection
Report definition in XML
Native report server integration of menten for IBM i (OS/400, i5/OS)
GUI Designer JasperSoft-Studio
Open source print engine JasperReports
Open-Source-Client
iReport = free open source Javs-based report generator (GUI)
Features:
Variables for sum, average, count, minimum, maximum, and user-defined calculations
Any group levels and sub-reports
Customizable pages and column formats
Extensive charts (pie, pie3D, columns, pillars 3D, line, Gantt, etc.)
Graphic elements such as frames, lines, rectangles, circles, ellipses
Extensive barcode library (EAN, CODE39, data matrix and more)
Highlights
Open-Source-GUI-Client
Platform-independent; reports can be run on other systems
No programming of printing programs required
Spools the print edition in OUTQ (PDF direkt print)