EDI projects require a wide variety of specialized knowledge. In our glossary, we provide answers to most of the terms you may encounter in your EDI project.
OCSP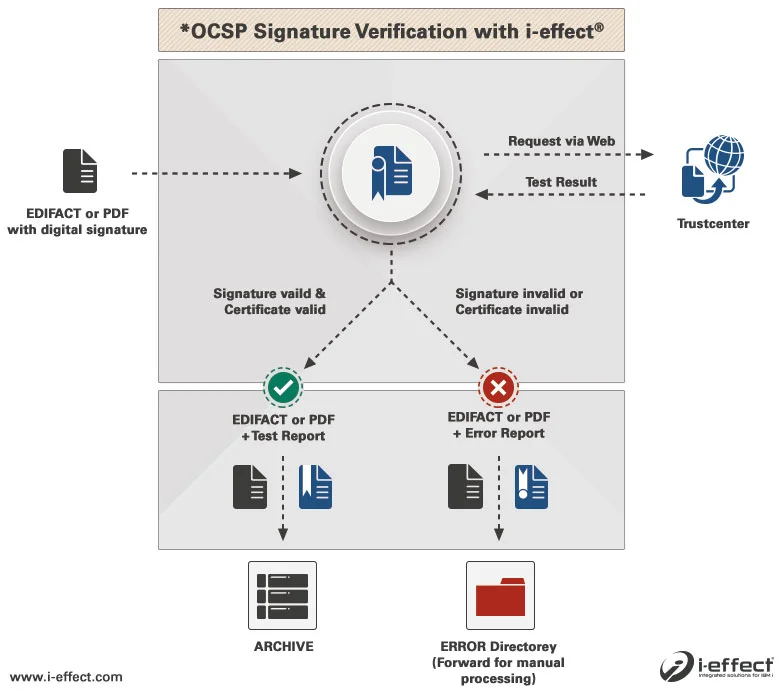 If the certificate is valid, *OSCP verifies the incoming data and creates a verification report, which is added to the signed document and forwarded to the Workflow. If the certificate has expired or is blocked, an error message will be created and it will be forwarded for manual processing. By means of the manufacturers declaration, the product is compatible with SigG compliant applications, according to German Signature Law, which increases the security of certificates.
i‑effect®´s *OCSP module can also be combined with other modules!
Application of *SIGG
Creation, transmission of messages with a qualified digital signature The i‑effect® *SPOOL module convert printer streams into the desired file format and sign them with a qualified digital signature. The validity of the signed file is then tested and a copy is saved with a test report in the Infostore archive. The signed file can be sent via *AS2, *EMAIL, *OFTP, *TELEBOX, *HTTP or *FTP.
Functions
Real-time status testing
Online testing of X.509 certificates
Automatic testing of signed documents at reception
Archived status logs
Output of the test reports in different languages
Communication protocol HTTP or HTTPS
Defined in RFC 2560